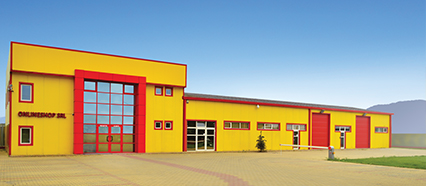 PNI-UK Ltd is the official entity in UK for the company SC Onlineshop SRL, manufacturer of the brands PNI and SilverCloud and distributor for top leading brands worldwide like Motorola, TTi, CRT, Sirio or Lemm Antennas.
The current portfolio of the company contains over 1000 products in the categories of CB radio equipment, car accessories, surveillance and security, smart home appliances as well as outdoor electronics, including LED-powered devices.
SC Onlineshop SRL is a medium-sized company, established in Piatra Neamt, Romania. The activity started in 2004 and has evolved step by step, expanding its business over the last years on the international market as well. At the moment, over 40 staff members are involved in the operations of the company. The PNI team has been built over the years and has the know-how of customer service as well as technical support. The technical team is involved in designing the PNI products as well as offering warranty and post-warranty services.

The turnover of the company has been growing continuously in the past years, in 2021 passing just over 11 million euros, which represents 25% more than in the previous year.
Our distribution network consists in private companies, hypermarkets, electronics distributors and marketplaces like Amazon, eBay or Emag. Currently, PNI products are sold in entire Europe and have official exclusive distribution in countries such as Germany, Spain, Netherlands, Belgium, Luxembourg, Bulgaria, Poland and Latvia.
All the products are designed and manufactured according to the European regulations and have the required documentation including the user manual in 10 different languages, installation scheme, multimedia content and conformity declaration.
The PNI products are easy to use for everybody. We design products to be plug and play, controllable via phone or tablet from anywhere in the world. For any technical information, our team is happy and available to assist its clients anytime!
PNI-UK LTD
Registered office: 58 New Bedford Road, Luton, LU1 1SH, United Kingdom
Working hours: Monday - Friday: 8:00 - 16:00
Mobile phone: +4407512085421
Email: [email protected]
VAT: GB384111709
SWIFT/BIC: TRWIGB2L
IBAN: GB85 TRWI 2314 7070 7034 26
Find us on the map
Coordinates: 46.920129, 26.401371